Monday, September 25, 2017 at 7:01PM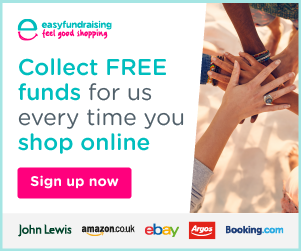 With rising running costs, we need to look at ways to keep the club sustainable. We do not want to put or prices up but to achieve this we need your help.
Do you shop online? By doing shopping through easyfundraising you can raise a free donation for Marshland Happy Days every time you shop!
Did you know that whenever you buy anything online - from your weekly shop to your annual holiday - you could be collecting free donations for Marshland Happy Days - Thorne & Moorends?
There are over 3,000 shops and sites on board ready to make a donation to our club, including Amazon, Ebay, Argos, Asda, Tesco, and Sainsbury's – it doesn't cost you a penny extra!
Basically, once registered with easyfunraising, every time you buy online, the company you buy from donates a set amount to us. If we get enough of you using this system then we will not have to put the prices up.
It's as easy as 1, 2, 3...
1. Head to https://www.easyfundraising.org.uk/causes/marshlandhd/ and join for free.
2. Every time you shop online, go to easyfundraising first to find the site you want and start shopping.
3. After you've checked out, that retailer will make a donation to us for no extra cost whatsoever!
There are no catches or hidden charges and Marshland Happy Days prices will stay the same.
Also, as an added incentive, the family with the most donations gained at the end of the month will get a FREE After School Club or Breakfast Club place of their choice.
Thank you for your support, and if you have any questions please don't hesitate to ask.
tagged
Easyfundraising,
Fundraising
in
Fundraising